WHAT IS THE HOCKEY SHOT FUNDRAISER?
---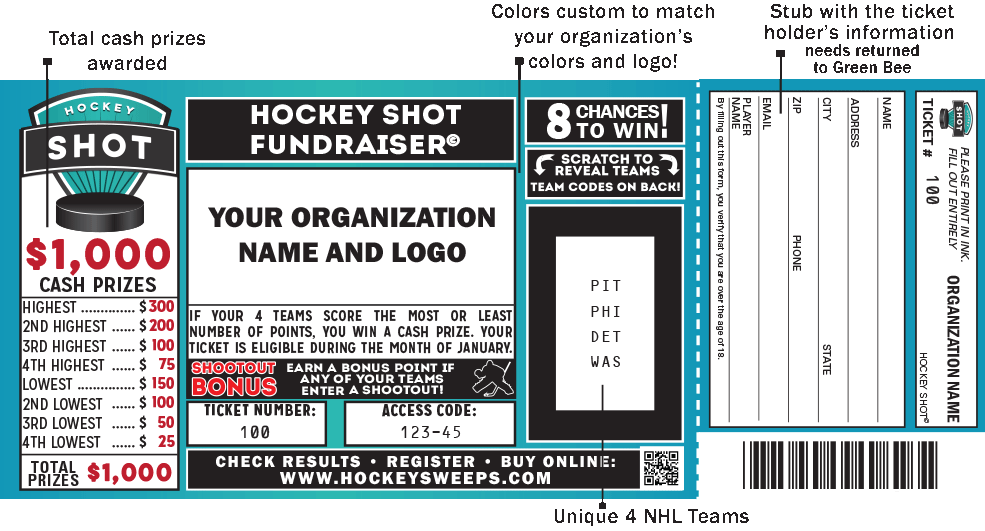 Hockey Shot is a ticket selling fundraiser. Your organization will profit by selling tickets for $10 or 20 each. Hockey Shot tickets have 4 Pro Hockey teams listed for one month ofthe NHL season. No two tickets have the same teams.
Cash prizes are awarded to ticket holders whose teams score the most or least goals for the month!
The Hockey Shot tickets are available to sell from August until April, based on the month of your fundraiser. Scores, results and winning ticket numbers will be posted by Green Bee Fundraising after the month is completed. All your organization does is sell tickets and return the stubs to us! We take care of everything for you.
---
HOCKEY SHOT FUNDRAISER FEATURES

HOCKEY SHOT FUNDRAISER OPTIONS

You choose any month of the NHL season you want to run this fundraiser. Sell tickets at $10 or $20 each and make 65% profit on each ticket sale, after your prize money is raised. You will have winners solely from your supporters. Sell tickets at $10 and your profit is $6.50 per ticket sold! Sell tickets at $20 and your profit is $13.00 per ticket sold!


Minimum order is 500 tickets. Your organization pays for printing and shipping. *Have a local business sponsor your tickets with an ad or coupon to cover your printing fee! Ask us how! When finished selling, you remit $3.50 per ticket sold on a $10 ticket or $13.00 per ticket sold on a $20 ticket, after your prizes. Unsold tickets are returned to Green Bee. See the profit chart below for popular samples of sales and prizes. 

HOW DOES THE HOCKEY SHOT FUNDRAISER WORK?

Give us a call to get started on your
Hockey Shot Fundraiser!  •  724-734-4233

---

Green Bee Fundraising Programs