Green Bee Savings Club
What is the Savings Club Card?
The Savings Club Card offers exclusive discounts to Restaurant.com certificates and other deals. Offers are subject to change to availability. When a supporter purchases a ticket they are buying the Savings Club Card, which is attached to all of our fundraiser programs. Registration is required. Details are found on the Savings Club Card.
Are Green Bee's Program Legal?
Yes, Green Bee's Fundraiser Programs are legal in all 50 states of America.
Our programs are no different than the sweepstakes people play at their local grocery store or fast food restaurant. People are purchasing a Savings Club Card and then given a chance to win with the attached Sweepstakes tickets.
How Can These Be Legal?
Our programs follow the same laws that govern almost all of the sweepstakes you see today. Once a person purchases an item of value, a merchant can provide a free sweepstakes to that person. For example, when a customer purchases an order of McDonald's french fries, McDonalds is allowed to give them a chance to win in the Monopoly sweepstakes. AMOE (alternate means of entry) is available for all programs.
Green Bee's Programs are no different. Every program is selling the Saving Club Card and offering the Sweepstakes ticket for free.
Savings Club Card Sample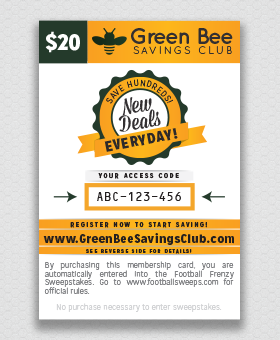 What is the Sweepstakes?
The Sweepstakes can be any of our ticket fundraisers: Football Frenzy Fundraiser, Basketball Slam Fundraiser, Hockey Shot Fundraiser, Soccer Shot Fundraiser or Baseball Fever Fundraiser.
These are not games of chance. The ticket combinations are pre-determined and distributed randomly. Any reference to the words sell or selling or sales applies only to discount coupons or discount cards or any other services and does not apply to the sweepstakes tickets in order to be eligible for prizes. Sweepstakes are for promotional use only. There is no purchase necessary to be eligible for prizes.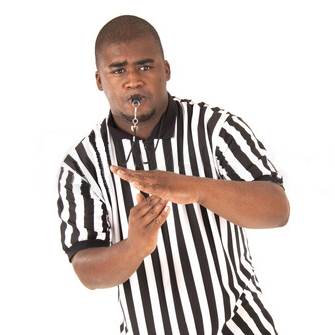 Green Bee Fundraising Programs