---
WHAT IS BASKETBALL SLAM?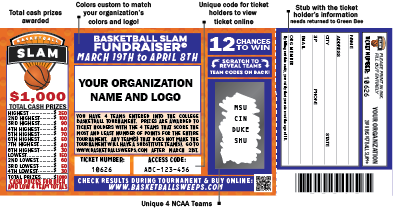 Basketball Slam Fundraiser is a ticket selling fundraiser that follows the March Madness tournament. See the Profit Chart. Each Basketball Slam Fundraiser ticket has 4 college basketball teams under a scratch-off. Cash prizes are awarded to ticket holders that have the highest 4-team combination score and to the ticket holders that have the lowest 4-team combination score. It makes no difference if teams win or lose.
The Basketball Slam tickets are available to sell from December to March. Results and winning ticket numbers will be posted on at www.basketballsweeps.com after the final game by Green Bee Fundraising. All your group does is sell tickets!
---
BASKETBALL SLAM PROGRAM FEATURES

BASKETBALL SLAM FUNDRAISER OPTIONS

HALF-COURT OPTION

Sell tickets at $10 or $20 each and make 65% profit after your prize money. Your profit is $6.50 per ticket (on a $10 ticket) or $13.00 per ticket (on a $20 ticket)!
• Choose your prizes! Customized fundraiser for your group!
• All winners from your supporters
• Buy Two Get One Free! This is an option.
Ticket holders can redeem a FREE third ticket online.

FULL-COURT OPTION

Sell tickets at $10 each and make 70% profit on each ticket sale! Your profit is $7.00 per ticket sold!

• Profit from your first sale!
• Program where you are pooled with other groups.

HOW DOES IT WORK




Request More Fundraiser Information!

Give us a call to get started on your Basketball Slam Fundraiser! • 724-734-4233

GREEN BEE FUNDRAISING PROGRAMS

---

---