---
WHAT IS FOOTBALL FRENZY?
---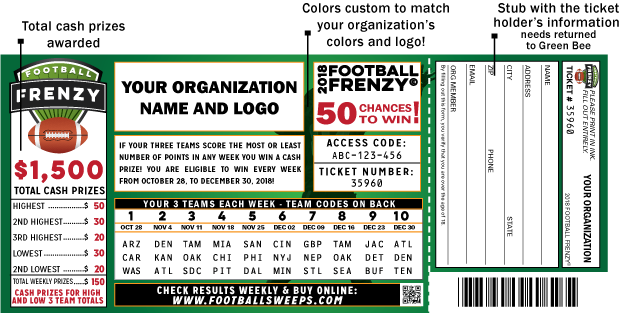 Football Frenzy is a ticket selling fundraising program. Your organization will profit by selling tickets. Football Frenzy tickets have 3 NFL or College teams each week for 5, 8, 10 or 17 weeks of the season. Teams change each week and no two tickets have the same teams. Cash prizes are awarded to ticket holders that have the highest and lowest 3-team combination score each week!
The Football Frenzy tickets are available to sell from April until November, based on the weeks of your fundraiser. Weekly results and winning ticket numbers will be posted on Tuesdays.
---
FOOTBALL FRENZY FUNDRAISER FEATURES

FOOTBALL FRENZY FUNDRAISER OPTIONS

The Football Frenzy Fundraiser is available in two program options, with both programs, your organization will profit 65% from the Football Frenzy Fundraiser!

THE FIELD GOAL

Sell tickets at $10 or $20 each and make 65% profit on each ticket sale, after your prize money is raised. Sell tickets at $10 and your profit is $6.50 per ticket sold! Sell tickets at $20 and your profit is $13.00 per ticket sold!


Minimum order is 500 tickets. Your organization pays for printing and shipping. When finished selling, you pay $3.50 per ticket sold on a $10 ticket or $13.00 per ticket sold on a $20 ticket. Unsold tickets are returned to Green Bee. Click here to see profit options!





THE TOUCHDOWN

Sell tickets at $10 each and make 65% profit on each ticket sale. Your profit is $6.50 per ticket sold! Green Bee will furnish the prizes at $2,500. Winning ticket holders may be from different organizations. The Touchdown program is available for the last 10 weeks of the season.

Minimum order is 500 tickets. Your organization pays for printing and shipping. When finished selling, you pay $3.50 per ticket sold. Unsold tickets are returned to Green Bee. Click here to see profit options!


HOW DOES THE FOOTBALL FRENZY FUNDRAISER WORK?

Request More Fundraiser Information!

Give us a call to get started on your Football Frenzy Fundraiser!  •  724-734-4233

Sports Fundraiser Games