FOOTBALL FRENZY FUNDRAISER
The excitement of Football Frenzy is based on having tickets with unique 3 team combinations during the NFL season. Each week, over 10 weeks, the tickets whose 3 teams score the highest or lowest amount of points win the cash prizes for that week! Not just 1 week of prizes, 10 weeks of prizes!  Easy to understand, easy to sell, and will work every year because people love it!
Launch Your FOOTBALL FRENZY Program Today!
Ticket

Ticket Details
Savings Club Card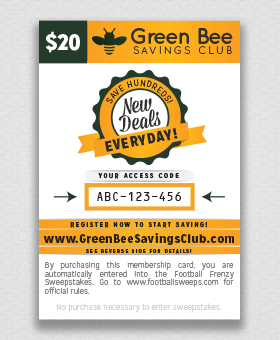 Savings Club Card
The Savings Club Card is a great value and part of most of our programs.
Your organization sells these Discount Cards and in return your supporters have access to valuable savings. In addition, those who donate are entered into a Football Frenzy Sweepstakes game.  The Sweepstakes are for promotional use only. There is therefore no purchase necessary to be eligible for prizes.
Prizes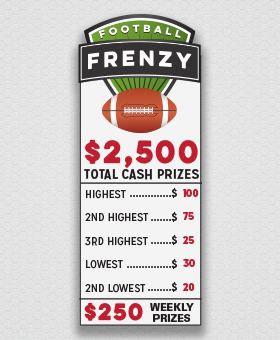 Prizes
You determine the Cash Prizes!
The most noteworthy aspect about Green Bee fundraisers is that they give your supporters a chance to Win Prizes for their donation. As a result, people feel that they are getting a great value and may even make a larger donation than usual. Prizes are paid out weekly to the tickets whose teams have scored the highest or lowest amount of total points. We have found that bigger prizes generate much more interest!   Green Bee will provide a suggested prize chart for your organization.  However, you are welcome to define your own prize levels.
All prizes are paid out before Green Bee or your organization makes any money.   Winners and their cash prizes are always paid first.

60% Profit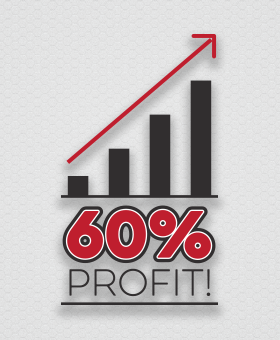 60% Profit
Most noteworthy of all, you will enjoy one of the best profit margins in the industry.
Green Bee takes care of running the program while you reap the rewards. People love our fundraiser games and they love the ability to Win Prizes with a donation they would have made anyway. Therefore, sales are higher than in typical fundraising ideas. In conclusion, you will earn a whopping 60% in profit after paying prizes for your program!
---
Buy Two – Get One Free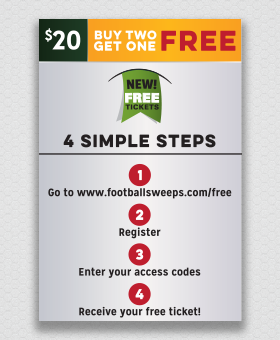 Buy Two - Get One Free
Additional Add-On Feature to Boost Sales!
As a result of offering Buy 2 Get 1 Free, you will encourage many people to buy two tickets when otherwise they would have only purchased one. Consequently, you should see an overall boost in ticket sales and therefore, in overall profit. In order to see the best results, Green Bee recommends advertising this feature heavily. Due to the Mobile nature of today's world, Social Media, Email Blasts and other forms of digital marketing are especially relevant forms of promotion.
Sell Online & Social Media Integration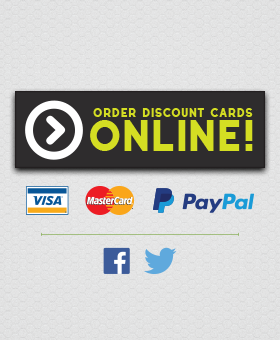 Sell Online & Social Media Integration
Increase Online Sales and Awareness.
In addition to selling paper tickets you can dramatically improve the success of your fundraiser online. Green Bee will work with you to promote your program through Social Media, Email Blasts, and Online Buying which will greatly increase the amount of tickets you can sell. Furthermore, Green Bee will create custom buy pages, QR codes, marketing fliers, and online donation portals in addition to providing marketing advice. Just another noteworthy benefit of choosing Green Bee's team of fund raising experts!
Your Organization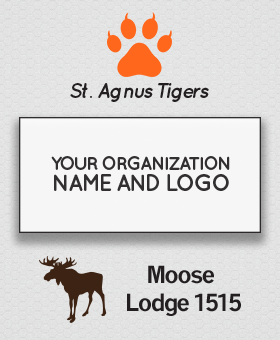 Your Organization
Your name and logo are printed clearly on the ticket.
Due to the custom nature of Green Bee programs, we want you to be able to personalize your fundraiser as much as possible. You can also add any additional text: website url, facebook links, or slogans.  Finally, Green Bee's graphic designers will send you a proof to review and approve before your program begins.
---
Results & Winners Online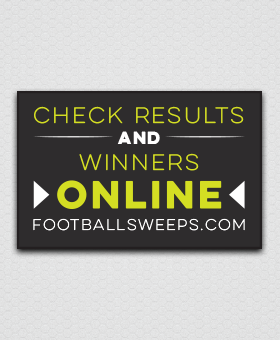 Results Online
Green Bee handles posting all the ticket results.
All scores are verified and visible during each game at
www.footballsweeps.com
. As a result, all you have to do is login to see if you won! Easy to use and as a result, it makes the game more fun. Each 3 Team combination is calculated on Tuesdays following the dates on the ticket. It makes no difference if teams win or lose. What matters is total points earned in the game. Ticket holders go to www.footballsweeps.com to view results each week.
Teams & Weeks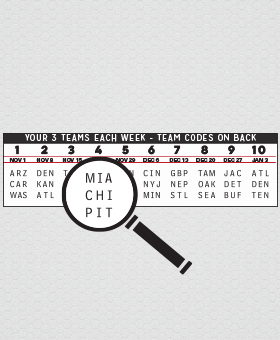 Teams & Weeks
Program runs 5,8,10 or 17 weeks, you decide! We will work with you to choose the best program based on your needs.
32 Pro Football teams are scrambled and divided into "3 or 4 team combinations" and printed on tickets. As a result, each ticket has 3 or 4 teams which change every week. No two tickets have the same 3 or 4 teams for any given week so that we can ensure a winner. Winners are drawn only from tickets sold which also adds more value to the program as you will always have a winning ticket. In conclusion, the total number of points scored by each 3 or 4 team combination determines the weekly winners.
Ticket Stub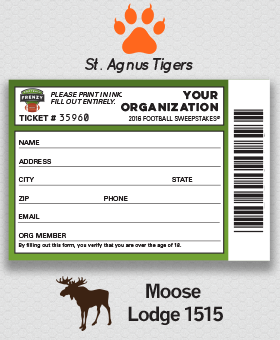 Ticket Stub
Ticket holders can fill out the stub or Register Online
We know that you are busy and therefore we want to make things as easy as possible for you. Because of this, we enable you to register by either filling out the ticket stub and by going online. The ticket holder keeps the ticket and turns in the stub. All stubs are returned to Green Bee Fundraising at the completion of the selling period.
Football Frenzy Details
Once Monday Night Football is complete, Green Bee will start to calculate the results for which tickets are winners. Normally, the results are verified and posted weekly on Tuesday afternoon.    Consequently, there are exceptions for holidays.
Winners will be determined automatically by Green Bee.  An especially relevant feature of our programs is that we handle everything for you in order to make it easy.   The posting of winners, notifying people, and ensuring they are paid their winnings is all taken care of by Green Bee!

There are a few dates to keep in mind with the Football Frenzy program.
Selling Dates  You can start selling tickets any time once the NFL schedule is released.  This is normally mid-April.     The last day to sell is 1 week prior to start week on your tickets. therefore you will get a better result by starting early. In addition to starting early you can also boost your sales considerably as a result of employing digital marketing tactics. Green Bee will help you with this because we know that not everyone is tech savvy and therefore we will provide you with the materials you need. In today's modern age, it seems almost imperative to leverage social channels and email marketing if you hope to reach your goals.
Program Dates – These are the dates that your tickets are live and program is running.   Most organizations run the last 10 weeks of the football season. In order to best design your program we will probably request information about your group or organization. Once we understand your audience we can craft a program that fits and most of all, returns a successful result. We are interested in your success because our mission is to help organizations to reach their financial goals and turn their dreams into reality.
Most of our programs offer Buy 2 Tickets, Get 1 Ticket Free!   Giving a great discount offer encourages people to buy an extra ticket if they were originally only planning to purchase one. As a result, this helps to increase sales. In addition to extra sales, you have more tickets in play and consequently, more interaction with the fundraiser game. The idea is therefore to build interest with your followers which will probably turn into even more profit the second and third year you run the program. People love sports and our programs only add more excitment due to the chance to win and having someone to root for. In addition, people who Win Prizes will certainly be looking for the fundraiser game again next year to try to cash in on more winnings. In conclusion, the program has a way of selling itself.